EvaSpy
Para descargar la aplicación, introduce el correo electrónico asociado a su licencia.
Este correo electrónico no tiene licencias activas.
COMPRAR AHORA
Monitoreo de Hangouts
The app is extremely popular among kids and therefore should also be monitored by parents. With our app, you can control your child's phone remotely.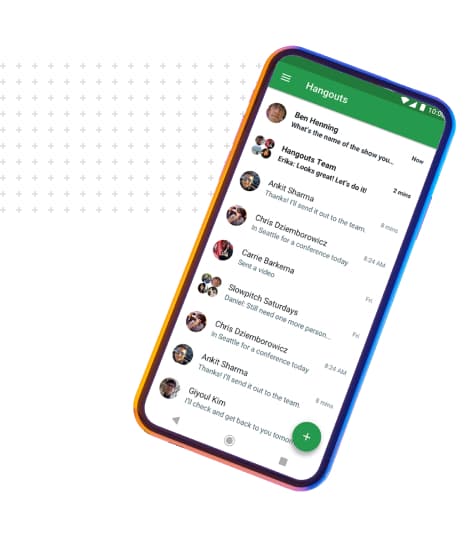 Check Hangouts notifications

EvaSpy records received text messages on Hangouts via notifications from this app. Ensure that your kids are not being bullied by Hangouts users and that they're not texting with online predators.*

Block Hangouts with EvaSpy

Our monitoring solution lets you block the app if you find it dangerous or unproductive.

Access from any place

Track Hangouts data via the EvaSpy online account and check new logs wherever you're located from any device connected to the Internet.
*Note that if you child doesn't receive Hangouts notifications, the data won't be recorded.
Why Do You Need a Hangouts Tracking Tool?
children aged 6-17 say they have sent photos of themselves online at least once.
This online messaging hub may also attract predators' interest as many Hangouts users are teens under 18. If you suspect that your child communicates with strangers on this platform, you should instantly find a reliable monitoring solution that will help you control your kid's Hangouts activities. This is where EvaSpy comes into play. The app allows Hangouts tracking even if you're far from your kid.
On your online account, you'll view all Hangouts notifications with incoming texts. If you notice some unwanted or suspicious activities, you can simply restrict the usage of this instant messenger.
Monitoring of other apps
EvaSpy can track more than 50 apps, including
Soluciones adicionales del EvaSpy
Grabar todas las pulsaciones de teclas, capturar contraseñas, visitar sitios web, chats y hacer capturas de pantalla.