EvaSpy
To download the application, enter the email associated with your license.
This email doesn't have active licenses.
Buy now
EvaSpy Features
Remote Monitoring

EvaSpy allows tracking all user activities from afar through your secured web account. This means that you don't need access to the target device to view the recorded data. Monitor your kids' activities from any device and any place with EvaSpy!

IMs Activity

EvaSpy keeps records of children's activities and allows video call recording in the most popular instant messengers (WhatsApp, Telegram, Viber, Skype, etc.).

Screen recording

It is a constant recording of the screen of the monitored computer. Screen recording is a perfect solution for parents who want to find out what user activities were taking place on the kid's device within a particular period of time.

Webcam Recording

EvaSpy can turn the target device into an advanced surveillance tool and record surroundings with the webcam letting you know what was going on near the target device within a particular period of time.

Call Recording

Thanks to the Voice & Video Call Recording feature, EvaSpy can record incoming and outgoing calls in the most popular IMs (Skype, Zoom, Facebook Messenger, Telegram, Viber, WhatsApp, Discord, Slack, Line, Google Talk, and more). Simply go to your online panel and choose the messengers you want to be recorded and EvaSpy will record all voice and video calls made with the selected apps.

Live Screen Viewing

View the screen of the target computer remotely in live mode and find out what your child is doing when you are not present.

Screenshot Capturing

EvaSpy makes screenshots on various events taking place on the monitored device.

Search Queries

Keep an eye on what your kid enters in the most popular search engines (Google, Bing, Yahoo, Yandex, AOL).

Social Networks Activity

Check your kids' activities on the widely-used social networks (Facebook, Twitter, Google+, LinkedIn, and more) and protect them from cyberbullying and other online dangers.

Visited Websites

The application monitors all websites visited by kids and sends the data to your online account. With EvaSpy, you'll know what content your children access on the Net.

Website Blocker

Add unwanted websites to the blacklist with the website blocker feature. You can block websites by category (dating sites, video hostings, torrents, adult sites, etc.), by URL or a particular keyword.

Running Applications

EvaSpy records what applications the user opens so you'll be able to identify time-wasting and unwanted apps.

Sound Recording

EvaSpy can turn the target device into an advanced surveillance tool by using the computer's microphone to periodically make sound recordings.

Printer Activity

When a printer task is active, EvaSpy takes a record of it.

External Drives Control

The program tracks all interactions with removable storage devices, including USB, HDD, SD.

User Statistics

All recorded data is represented in graphs, charts, and analytical tables for your convenience.

Webcam Video

The program can periodically record webcam video when selected important events take place.

Webcam Snapshots

Find out what's going on near the target device by capturing webcam snapshots and viewing them remotely.
How Does EvaSpy Work?
Buy a subscription and enter your valid email

Buy now

Check the inbox for your EvaSpy password and sign into your online account

Download EvaSpy from your account and install it on the target device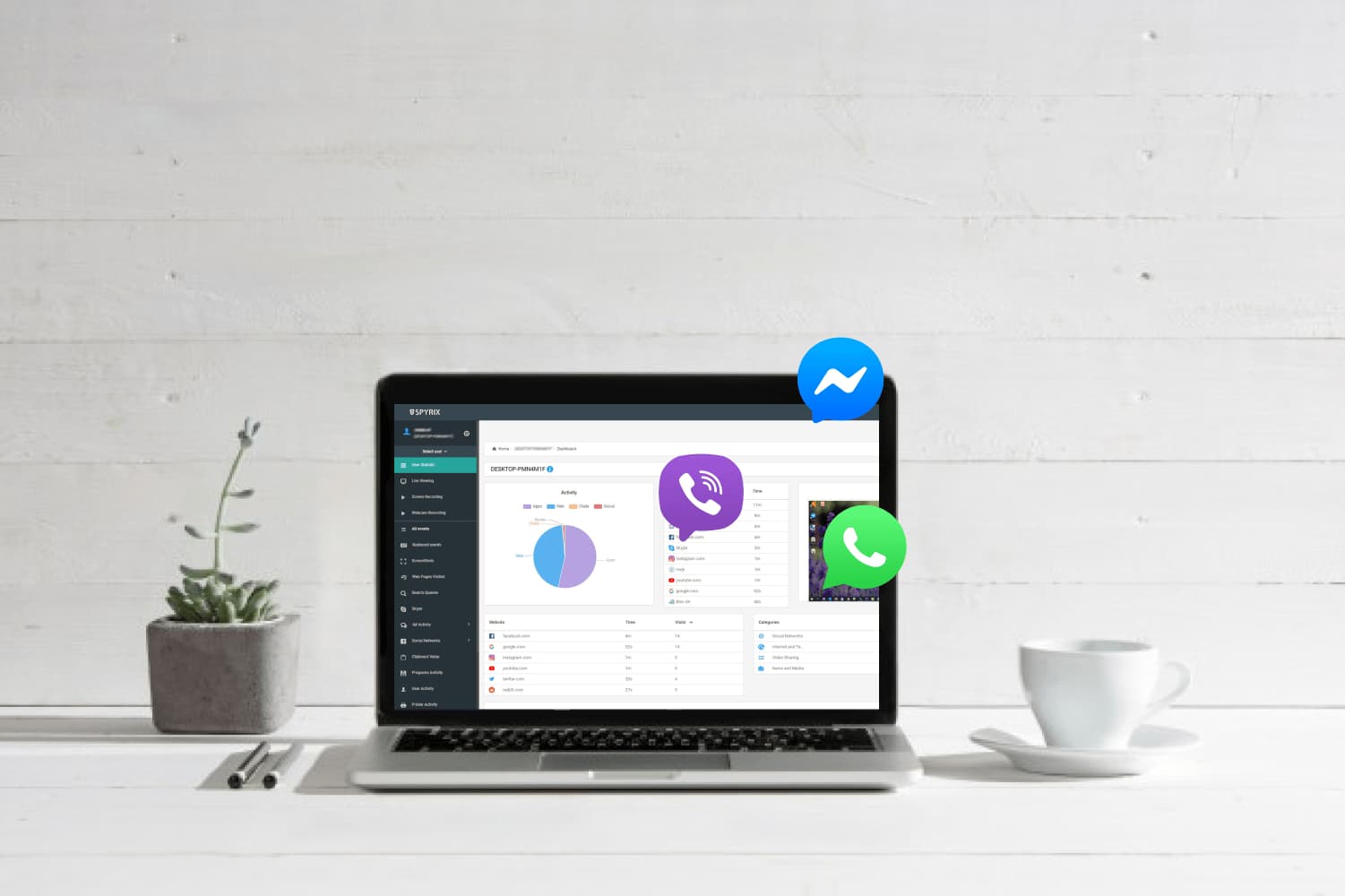 Advantages
1

Easy-to-install

EvaSpy is designed with parents in mind and doesn't require any special technical skills to start monitoring the target computer.

2

Powerful Features

EvaSpy offers advanced monitoring features allowing you to record any kind of kids' activities on their devices.

3

Remote Monitoring

The program allows remote monitoring of user activities from any place and any device so you can track your target on the go.

4

Secured Account

We take both the privacy and security of your data very seriously that's why your online account is strongly protected.