EvaSpy
Para descarregar a aplicação, introduza o e-mail associado à sua licença.
WhatsApp tracker para Android
Download the app and Read all WhatsApp text messages, both sent and received.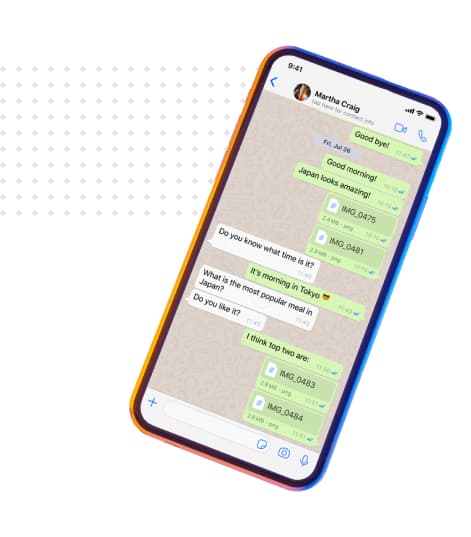 View all WhatsApp data

Check all received and sent text messages with media files, view the name of the contact, the exact time and date when WhatsApp messages are received or sent.

Read text messages

View all text messages, both sent and received, with the name of the contact and timestamps.

Track pictures and audio files

Browse all the multimedia files like pictures and audios shared on WhatsApp and stored on the device.*

Monitor WhatsApp Activities Remotely

Access all recorded data via your EvaSpy online account from any place and any device.
Tracking WhatsApp media files is not supported on some Android devices. It's strongly recommended to contact our support team and to ask if the feature works on your device.
Why should you monitor WhatsApp Activities?
of teens are willing to share personal information on social apps in exchange for goods and services.
All parents care about their children's safety and therefore want to protect them from online dangers awaiting kids on the Net and social apps. If you want to check who your beloved one interacts with online and to ensure that your kid is not being bullied, WhatsApp monitoring is a perfect solution. With EvaSpy WhatsApp tracker, you'll forget about worrying that your kid communicates with strangers on this instant messenger.
Our app lets you track all text messages, photos, and audio files shared on WhatsApp as well as the nicknames of your kid's contacts. EvaSpy makes WhatsApp monitoring smooth and easy.
Monitoring of other apps
EvaSpy can track more than 50 apps, including